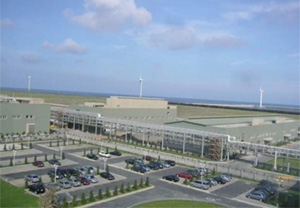 Taiwan Speciality Chemicals Corporation (TSCC) was established in March 2013 and settled in Changhua Coastal Industrial Park, Changhau County, with 75,000m2 (18.5 acres) of land.
TSCC aims at Specialty Electronic-Graded Gases (SEG) and Specialty Electronic-Graded Chemicals (SEC) to be professional semiconductor developed manufacturer. The main products are Disilane, Trisilane and Related silicon products.
TSCC holds unique R&D technology and patterns regarding manufacturing process which the production line is capable of co-producing Disilane(Si2H6), Trisilane(Si3H8) and by-products. We are honor to supply high-end quality products for many well-known semiconductor companies.
Chemical and Gas Professional Laboratory is a protector to ensure the quality for our customers. In addition, we have been applying for Taiwan Accreditation Foundation (TAF) Certification.
TSC has the certifications of ISO9001 and OHSAS18001. The great importance of Social and Environmental Responsibility is TSCC main purpose, especially for employees and working environment.
Diligence, pragmatism, professionalism as well as creativeness are TSCC utmost purpose. We devote to be the best partner for Semiconductor key material so as to meet TSCC version "Special gas sales over the global, Specialty chemicals widely used in the world".

■

2013.03
Taiwan Speciality Chemicals Corporation established.

■

2014.01
Gen. I catalyst for Disilane process developed.

■

2015.03
Patents of Silane and Disilane manufacturing in Taiwan obtained.

■

2016.12
Important phase of capital raised completed

■

2017.04
Gen.II & Gen.III catalyst for Disilane process developed, and joint development plan of semiconductor materials attained.

■

2017.06
Pilot plant of 30L and 100L Disilane process and trail run was completed with targeted Disilane production rate.

■

2017.12
Phase 1.1 expansion of Disilane process completed.

■

2018.01
Approval and recognition as supplier from core semiconductor manufacturers received.

■

2018.06
Certificate of ISO9001 and OHSAS18001 updated and obtained.

■

2018.07
Associated and strategic shareholders invested, and supply chain to semiconductor industries strengthened.

■

2018.11
Full capacity test of Disilane process completed at phase 1.1 stage.

■

2018.12
Taiwan Accreditation Foundation (TAF) laboratory certification program launched.

■

2019.02
Obtained newly invented patent in Taiwan for the high level efficiency and purity recycling regarding Silanes.

■

2019.07
Obtained the produced technology patent in China regarding of Disilane and Trisilane.

■

2019.11
Obtained certificate of ISO9001, ISO140001 and ISO45001.

■

2019.12
Won Annual Excellent Supplier Chain Award 19th from core semiconductor manufacturers of Taiwan.

■

2020.01
Obtained Disilane production technology patent in USA.

■

2020.03
Passed TAF laboratory certification.